Ensuring you have the right talent and hiring strategy is essential to any startup wanting to succeed. Without the right team, solving the problem you are addressing is an impossible task. This is especially true for deep tech startups like Deep Render who are pushing the boundaries of technology and its performance. We aren't just looking for people who can build on what's been done before: we're looking for inventors who can completely change the field with groundbreaking new ideas and propel Deep Render forward.
Over my three years as the Head of Talent at Deep Render, the company has scaled from 6 to 33 team members from 13 countries across the world. We've built out entirely new functions, going from researchers only to having teams spanning Research, Engineering, Product, IP, Operations, and Talent. Through this expansion, the team has had a very clear vision: assemble a diverse and exceptionally talented team capable of pushing the boundaries of what AI-based compression can achieve.
It's easy to say what kind of team a company wants. It's something completely different to make it happen.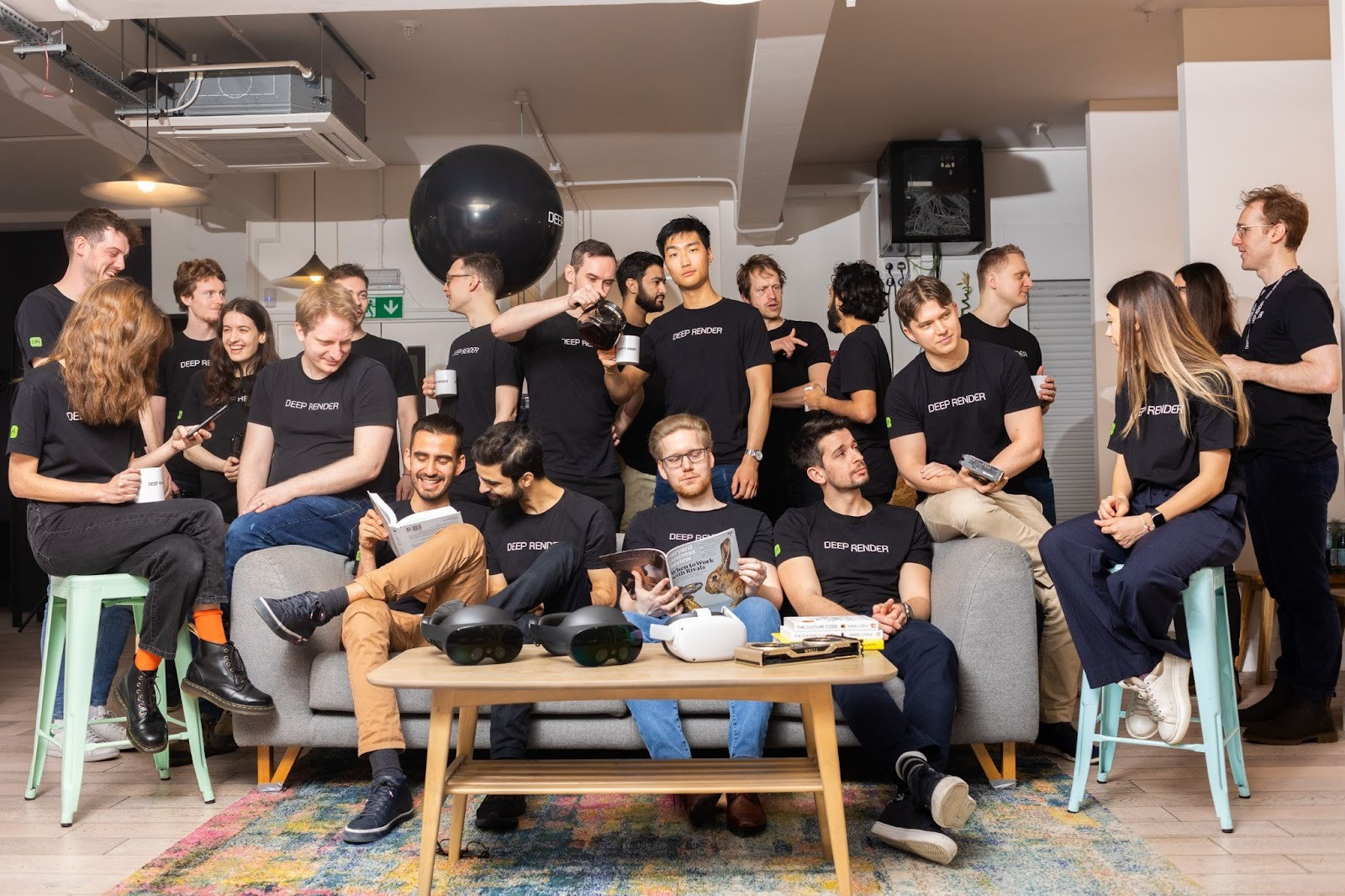 Setting the Hiring Roadmap
The first step in building a team is identifying who is needed and when. To do this, we started from our technical roadmap and built our hiring goals on what scale and capabilities we would need to achieve the roadmap. For Deep Render, we decided to build a vertically integrated tech team so we could own every stage of product development, meaning we needed to hire across technical capabilities.
Within a startup, as important as it is to have structure and sensible planning (especially regarding headcount), a degree of flexibility needs to be maintained. Things happen fast and you need to be able to adjust, either to external factors such as changes to the macroeconomic environment making it harder to raise funding, or internal factors such as demand for extra resources due to a customer requirement.
Once the headcount plan was in place, the next step was to establish the talent processes necessary to achieve this plan. We started from a blank canvas, with a seemingly endless list of decisions. We broke this down into smaller, more digestible tasks such as setting job descriptions, setting up an effective applicant tracking system (ATS), and establishing an objective interview process.
Job Descriptions
We started with job descriptions for our research and performance engineering roles (both of which are still hiring now if you would like to apply! See our Careers page for more information). We started by discussing the technical skills and expertise required with the existing team, then used gender-decoding software Textio to eliminate bias and ensure we were using gender neutral language throughout our job postings. We are dedicated to ensuring diversity within Deep Render: this starts with ensuring our job descriptions are inviting a diverse array of candidates to apply.
Applicant Tracking System (ATS)
An effective ATS streamlines a hiring workflow by automating tasks like CV screening, candidate communication, and interview scheduling. In our fast-paced environment, where time is of the essence, optimising business processes such as recruitment is crucial. We chose Greenhouse as our ATS and the years of historical data we have now built up within the system allows us to make data-driven hiring decisions and increases the accuracy of our headcount forecasts.
Interview Process
Creating an objective interview process was the final piece of the puzzle. We believed that our interview process should reflect our company culture, and reflect the speed, agility, and flexibility needed as a start-up. After reviewing industry best practices and in collaboration with the interviewing team, we built out set questions and example answers covering core topics that a candidate would need to be familiar with in order to be successful at Deep Render. For example, our Research interview process focuses on: probability, information theory, programming, and deep learning.
Alongside technical questions, we also include a number of qualitative and behavioural questions to ensure we are not only hiring the best technical talent but also candidates who will fit and help further develop the culture at Deep Render.
Live Searches and Sourcing
With our talent processes and tools in place, the next step is going out to the market and recruiting the exceptional team we need to revolutionise the compression industry. We started by mapping the market to build a view of where potential candidates currently worked, example job titles (either broad or niche), and educational backgrounds.
We then combined active and passive sourcing techniques to build a pipeline of candidates. At Deep Render, 80% of our candidate pool is identified via active sourcing: our talent team proactively searches for individuals with the skills we need, even if they aren't actively seeking new roles. Platforms like LinkedIn, GitHub, and Codeforces are instrumental in active sourcing. Additionally, we advertised our job vacancies on websites like Otta and Wellfound.
Alongside active sourcing, we also use passive sourcing to target candidates who are open to new opportunities through employee referrals, social media engagement, and attending industry events such as Women in Machine Learning events in London. We foster relationships with leading universities - such as Oxford, Cambridge, and Imperial - to engage with top talent coming to the job market straight from education.
From Candidates to Colleagues
Ensuring the people who want to join Deep Render also want to join us is the crucial final step in our recruitment process. Given the calibre of candidates we are targeting, they all have a multitude of different options: we have to make sure they want to choose us.
We must be doing something right, as our offer acceptance rate exceeds industry standards, with over 90% of our offers being accepted. We think this comes down to three key things: interesting work, excellent culture, and fair remuneration.
Interesting work
The work we are doing is groundbreaking, novel, and challenging - and has tangible real-world benefits. So far, demonstrating this to candidates has not been an issue. As well as this, we are big believers at Deep Render in hiring people who can bring ideas and make changes. We want people who come up with innovative new ideas and are constantly iterating on existing ways of doing things. As a result, once we hire people, they're empowered to work autonomously and own projects from start to finish and are trusted to build something great.
Excellent Culture
Communicating our culture starts from the very first interaction a candidate has with Deep Render. We pride ourselves on providing a best-in-class candidate experience and ensure we are talking through our team culture and future vision from Deep Render from the very first call.
We maintain this focus throughout the process, with our technical interviewers sharing insights into our culture and what it's like to work here. By the time we extend an offer, candidates are genuinely interested in what we're striving to achieve. Consequently, our offer acceptance rate exceeds industry standards, with over 90% of our offers being accepted.
Fair Remuneration
Ensuring that we offer competitive (and fair) compensation packages that align with candidates' experience, job responsibilities and impact is important to Deep Render. The best way to do this is through benchmarking salaries, but as we operate in a niche field, this can be challenging due to the scarcity of relevant data.
To address this, we employ multiple approaches, starting from using industry benchmarking reports from companies such as Gartner and Mercer, as well as specialist recruitment agencies. Next, we leverage our investors and their portfolio network to help gain comparison points from similar companies. Finally, we collect data from candidates and record this in a "live benchmarking sheet". For every candidate we speak to we ask about their current salary, salary expectations, years of experience, and degree level (e.g. Masters, PhD). The combination of these sources allows us to have our finger on the pulse of what the market is paying live candidates, and helps us to ensure we continue to pay fairly and competitively.
Conclusion
Deep Render's journey has only just begun. As our achievements to date have been made possible by the quality of the employees, so our ability to achieve our future ambitions will be defined by the hires we are continuing to make. As a business, we're never ones to rest on existing traditions and rely on them - and we're always looking to iterate and improve processes to ensure we can attract, hire, retain and develop the best talent out there.
Looking back over the past three years of my role as the Head of Talent at Deep Render, I can't help but feel both pride at what we've already achieved, and excitement at what is coming next. This journey has already been an experience like no other and we are just getting started: I am certain the next three years will bring even more success stories for Deep Render.